Eric and I do not want any of you to suffer from joint or foot pain now or never.

So, we wanted to post a blog entry dedicated to your feet.

If you cannot read this entire post, for lack of time, then please read the highlighted part below. See you soon!
A lot of Zumba® moves require you to pivot, turn, and slide, so you must invest in a good shoe that accommodates these movements, especially if you take two or more classes a week.
For Zumba, your perfect shoe should be...
-be low-tread/low-traction so that you can pivot with ease, and
-ideally, be suitable for dance/dance fitness.
If you already use aerobic, cross training, or court shoes (ie, for racquetball, basketball, etc.,), and they work well for you then that may be fine. Eric and I both wear cross trainers and Zumba shoes, on occasion. Cross trainers work very well for Zumba, and for some of us, cross trainers are better than shoes designed specifically for dance, and vice versa. The key is to dance in shoes that protect your feet, all of your joints, and help prevent injury in the long term.
We are also concerned about those of you who are wearing running shoes in your Zumba® classes. I notice a few of you taking it easy in your running shoes by stepping instead of pivoting or gliding to avoid stressing your joints. As you know, running shoes are designed for traction and for holding onto surfaces. They can cause you some joint discomfort in the short or long term.

It is very smart to tread lightly, pardon the pun, if you are wearing running shoes.
When shopping for a new pair of shoes, do some research.

Advice from a fellow Zumba enthusiast may not be the best advice, because one shoe is not good for all. Y
ou must TRY ON/OUT THE SHOES FOR YOURSELF.
Make sure YOU are the one trying them on, and giving them a test run.

Someone else's perfect shoe may cause your body injury.
Some of us need more/less arch support, some of us ha
ve narrow/wide feet, and our foot needs
may change with age/weight!
I also highly recommend getting your feet measured and analyzed by someone who knows how to "fit" shoes for the indivdual . Check out
Fleet Feet Sports FITLOSOPHY™ Process
, where they follow six steps to help insure that you have the proper shoes for your particular feet and body.
Omega Sports
is another retail outlet for shoes where you'll get personal
attention and education about your foot type.
Perhaps, you noticed that I occasionally wear Zumba® shoes. They are low-tread, and while I do wish they came in half sizes, I dance easily in them and my feet feel great! If you want to give Zumba shoes a try, visit www.zumba.comand use our Affiliate Code 97405 to get 10% off.
Zumba® are specially designed for dance fitness.
Or, do more research and give other shoe brands a try. I enjoy my New Balance shoes as well.
Take good care of your feet. Your entire body will thank you for it!
A special note for those of you who take Zumba classes on carpet: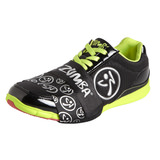 Do you take a Zumba® Fitness class on carpet?

Eric and I both used to teach classes on carpet.

When I taught classes on carpet, my hip, knee, and ankle joints always ached after class.

Then, I learn about slip-ons/gliders.

They are sold at
www.zumba.com
as well.

Slip-ons may be your solution, or even a strip of packaging tape may do the trick.